TESTIMONIALS
".....With so many different vendors out there it is hard to know the right one to choose for a kid's birthday party. Many companies offer face painting, obstacles and fancy vests, but the primary criteria for choosing a laser tag party provider should be the selection of weapons."
- Neetu M (SuperMommy), seen with his son Zayden above at his 8th birthday party at Sentosa | 19 April 2017
http://www.supermommy.com.sg/kids-laser-tag/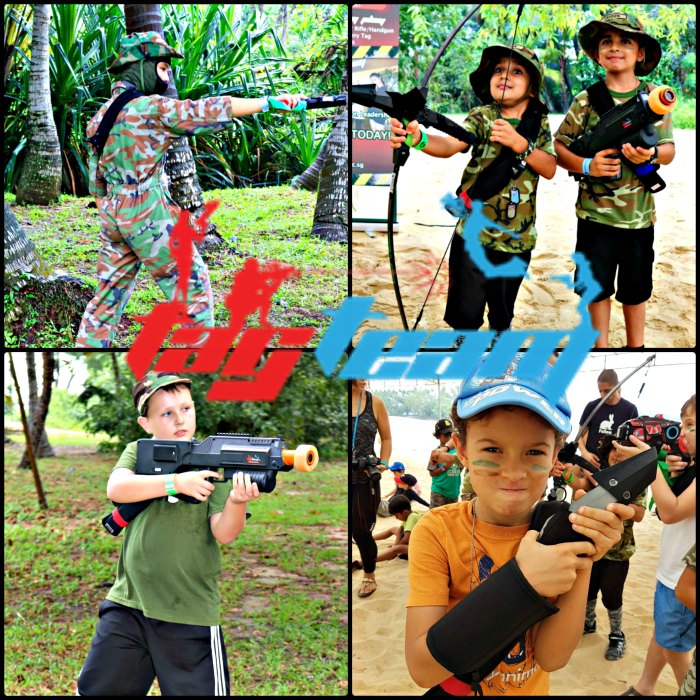 From Our Blogger Friends
"....paying S$15 for just 15 mins may seem steep but trust me, if you really play properly, you will sweat!..... The kids wanted to play some more so Abg requested another round but this time all of us kept insisitng that Mak (the grandmother) join us. She was apprehensive when she saw us covered in sweat but I just told her, she could be a 'camper' lol. You know, just hide but only shoot when someone appears in front of her. In the end, she joined us. She had a great time! If you watch my vlog below, you could see her scurrying here and there chasing her grandchildren..." - "Laser Tag at East Coast Park" http://zzanyy.blogspot.sg/2015/11/laser-tag-at-east-coast-park.html
"Since discovering Laser Tag, the kids have always loved their excursions to TAG TEAM!" - Edunloaded.com
"It was so fun! A warm up and prelude to the laser fight, we were taught how to use the Reza Sword - using both the sword and gun modes." - ilovedefamily.blogspot.sg
"I certainly ended the morning having done more exercise than I expected! Noey has been asking to bring Daddy back to Tag Team for a family Boys-v-Girls match-up so I will have to arrange one soon." - lifeisinthesmallthings.com
"...Our team was all hyped up for the interactive and exciting laser tag game and the friendly staff were extremely patient and did the briefing very clearly...
Overall, it was really an experience worth reliving again and would definitely recommend TAG TEAM to anyone who wants to have an ultimate blast of fun or some dynamic team bonding! Thank you so much!"
- Jane Neo | 7 April 2017
Managing Director, Digimatic Media Pte Ltd
"We had engaged your services for our team building activities and it proved a hit amongst our team members. Not only it forges better ties, it also maid us better collogues in terms of cooperation.
The event was carried out in a very professional manner with facilitators & first-aid box on standby. Having said that, we would recommend you guys to other departments for their team building activities without any doubt! Two Thumbs Up, guys
"It is definitely one of the most memorable event for year 2012. We are glad we wrapped up the year with Tag Team Inc!!! A BIG thank you to all at Tag Team Inc. You are professional, efficient, friendly and committed. You have a tender way of blending the young and old to play as a team. Alexander and friends had a blast of awesome fun time. Mummies and Daddies were delighted to see the children enjoying themselves.
It was a great tagging experience ….
YES, and it's worth sharing!!! All the best Tag Team Inc!!!"
"I would like to thank your company for a professional and fun event yesterday. Our Church youths thoroughly enjoyed themselves and it was the highlight of the camp for many.
Kenny was very professional and warm, this helped to put the youths at ease. He was also conscious of their safety at all times. Brandon and Ming Sheng were very helpful as well."
"I have fun, enjoy it …. In business it is possible to reach the customers: children, adult and at any age …. I can wake up my children in the morning with this sword just by swinging it. This is a cool sword!" - Didi, Indonesian
"I love how the music of the sword while I'm playing its. Its like you're playing or using sword in true life … very amazing." - Ethel Pitogo, Philippines
"I would like to thank TAG TEAM for your generous contribution toward the 100 wishes programme – a workshop and activity series aimed at uplifting the well-being and improvising the social mobility of vulnerable women.
The Laser Tag session benefited women and children from SACS Family centre – on of the four women's shelter in Singapore. Aside from motivating them to incorporate fitness in their lives, the Laser Tag Session provided an additional opportunity for the women to bond with their children and with each other.
We are grateful for your support of YWLC's community engagement efforts, and hope to work with you again
"I would like to thank your great team for conducting an engaging and exciting programme for my NCC boys on Sat (20 Oct 2012). They were also kind enough to let my NCC instructors, teachers and myself to participate in the game too. We all had a great time playing together!
I would also like to thank you for accommodating to my request to engage your services despite the late application. It has been a pleasure working with you and your team! Looking forward to another working relationship with you in future!
Once again, THANK YOU very much! Have a good week ahead!"
"Thank you for coming down to my school (ACS Barker Road) in supporting us in our stall. You guys have been great! All the things you did for us was priceless, the most important thing was how all the people that came down to the stall enjoyed the game. We earned 4 digits in 2 hours and this is due to all the help you have given to us.
Many said it was impossible to have an extremely good business but you proved them wrong! many came back for more making our stall one as the most well received stalls!
From the class of 3Engineering of 2011 we would like to say a BIG THANK YOU to you for making this Carnival a success! Hope to hear more from you guys!
"I remember playing laser tag as a kid. It was fun, but the gun and headgear weren't very cool-looking, and heavy too! The RezaNinja sword and wrist accessory are lightweight AND they look awesome. The built-in sword and shuriken sound effects make sword play a much more interactive experience when pretending to be a stealthy ninja warrior! I think this will be a big hit with cosplayers at comic and anime conventions, too. I can't wait to play with the final product!" - Sean Cardeno, USA
"Shape feels pretty good for both range and melee gameplay. The trigger feels solid enough… Linking it to an engine would be something I'll look forward to" - Hardy Shein (Gamer/Game Developer), Games Solution Centre, Singapore